¿Cuáles son los equipos musicales que usa normalmente U2?.-
---
BONO:
---
Durante los primeros tiempos de U2, Bono se dedico principalmente a "cantar" y a "ganarse" al publico. Si es cierto que usaba una Fender Lead II durante "A Day Without Me", pero no fue hasta la época de The Unforgettable Fire cuando Bono comenzó a utilizar más la guitarra (Washburn Festival Acoustic).Haciendo un breve resumen de los principales guitarras que ha usado Bono durante las giras de U2:

U2 The Joshua Tree Tour: Bono uso una The Gibson J160-e y varias Telecasters
U2 Zoo TV Tour: Bono uso una black Gibson ES-175.
U2 Popmart Tour: Bono uso una sparkle ES-175 y una Gibson Les Paul Custom para "Last Night On Earth"; Tambien usaba una Gibson Hummingbird en el scenario b (acustico) y una Gretsch Chet Atkins Tennessean para"Gone".
U2 Elevation Tour : Bono uso su Gretsch Chet Atkins Tennessean y su cadillac green Gretsch Country Club o una Gretsch "Irish Falcon"
U2 Vertigo Tour: se vio menos a Bono tocando guitarras pero en alguna ocasion uso su Gretsch "Irish Falcon"

Evidentemente, en esta lista de equipos de música que ha usado Bono a lo largo de su carrera, no están todos, pero si los más importantes:

Alvarez/Yairi – DY56 (electrica/acustica)
Fender – Lead II
Fender – Telecaster
Fender – Telecaster Custom
Fender – Telecaster Deluxe
Gibson – ES-175
Gibson – ES-335
Gibson – J-45 Hummingbird
Gibson – J-46 Hummingbird
Gibson – J160E
Gibson – L5
Gibson – Les Paul Custom
Gretsch – 6119 Chet Atkins
Gretsch – 6196 Country Club
Gretsch – G6136I Bono Irish Falcon
Gretsch – 7593BK Black Falcon I
Washburn – EA20 Woodstock Festival
Washburn – EA40 Woodstock Festival



Bono Gretsch Irish Falcon
---
THE EDGE:
---
Tal vez The Edge sea el miembro de U2 más polivalente, ya que ha usado multitud de equipos de música: Evidentemente, su instrumento principal es la guitarra, pero también toca el piano, el bajo o el banjo (DVD de Vertigo).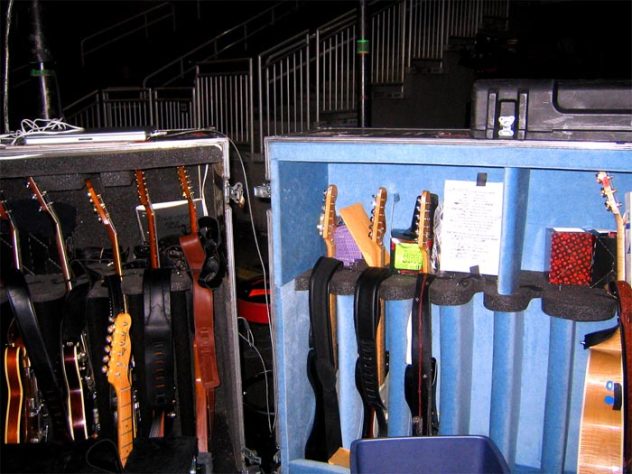 Normalmente, cuando U2 sale de gira, The Edge lleva consigo alrededor de 50 guitarras, y un mismo concierto, puede llegar a usar del orden de 20 guitarras. Y el numero de guitarras de The Edge se incrementa en su estudio: se estima que puede llegara tener unas 200 guitarras.

Seguramente en esta lista no "estén" todas las guitarras de The Edge, pero si están las más importantes:

Bond – Electraglide
Breedlove – CM
Danvel/Nelson – Stratocaster style guitar
Epiphone – Casino
Epiphone – Elektra
Epiphone – Les Paul Standard "Music Rising"
Epiphone – Sheraton
Fender – Jaguar
Fender – Stratocaster
Fender – Stratocaster – Eric Clapton model
Fender/Squier – Stratocaster
Fender -Telecaster
Fender – 40th Anniversary Telecaster
Fernandes – Decade Elite w/sustainer
Fernandes – Native Pro w/sustainer
Fernandes – RetroRocket w/sustainer
Gibson – ES295 (se pudo ver esta guitarra en el video de Desire)
Gibson – ES330
Gibson – ES335 (utilizo esta guitarra en Joshua Tree tour para One Tree Hill)
Gibson – Explorer – Limited Edition
Gibson – Firebird (guitarra de Daniel Lanois)
Gibson – J200
Gibson – SJ200 – Pete Townshend Limited (usada en U2 Vertigo 2005 tour)
Gibson – Les Paul
Gibson – Les Paul – Custom – 1975 (fue subastada en Nueva York el 21 de Abril de 2007 a beneficio de Music Rising )
Gibson – Les Paul – Standard
Gibson – SG
Gibson – Sonex 180 Deluxe
Gretsch – 6117 – Double Anniversary
Gretsch – 6122 – Country Gentleman (Vertigo tour)
Gretsch – 6129 – Silver Jet (La usa en el video de Lemon)
Gretsch – 6136 – White Falcon
Line 6 – Acoustic 700
Rickenbacker – 330/12
Rickenbacker – 360/12
Takamine – Santa Fe
Taylor – 614ce – auditorium
Taylor – 710 – dreadnought
Taylor – 814ce – auditorium
Taylor – 914ce – auditorium
Washburn – EA40
Washburn – EA20 (La uso durante Zoo TV Tour)

Configuración del equipo de The Edge en la era War 1983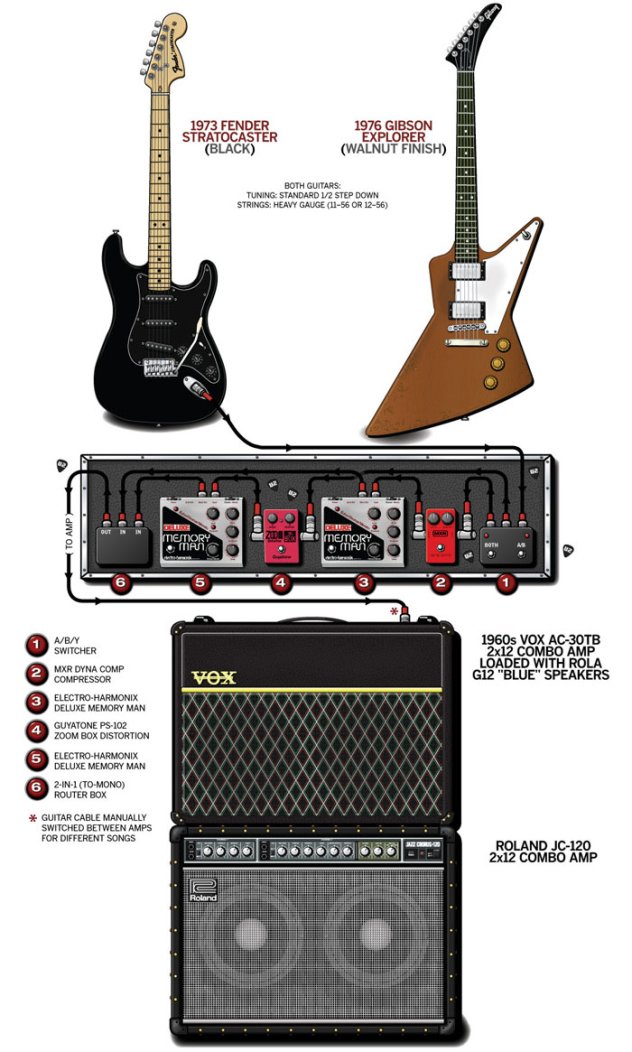 Equipo The Edge 1983

Fuente: The Edge – U2 – 1983 (Adam Cooper)

Amplificadores que usa The Edge:

Vox AC30
Fender Deluxe Tweed
Fender Blues Jr
Roland JC120

Pedales y Rack de The Edge:

"Floor board" – Digitech WH-1, Dunlop Wah, Skrydstrup SC-1
"Rack" -Lexicon PCM, TC 2290 Dynamic Delay, Line6 Pod Pro, Korg SDD 3000, AMS S-DMX, Korg A3, Line 6 CUSTOM Distortion Pro, Rockton DVC
"Pedales" – BOSS CS-2, BOSS DD-3, BOSS FA-1, BOSS GE-7, BOSS PW-2, EHX Big Muff, Ibanez Tube Screamer, Lovetone Doppelganger, Lovetone Meatball

Equipo Musical de The Edge durante la gira U2 360 Tour:

Equipo The Edge U2 360 Tour: Amplificadores, guitarras, pedales de efectos, cuerdas, teclados…

Estudio del Delay de The Edge

A Study of The Edge's (U2) Guitar Delay

Cómo tocar como The Edge

How to Capture The Edge's U2 Guitar Tone

Edge comenta su equipo para The Joshua Tree

U2′s The Edge Discusses Gear and 'The Joshua Tree' in 1987 Guitar World Interview
---
ADAM CLAYTON:
---
Los bajos que Adam Clayton ha usado principalmente como equipo de musica han sido principalmente de dos tipos: "Jazz Bass" y "Precision Bass" y como amplificadores usa modelos de la marca ASHDOWN GEAR (BM RPM-1 EVO II Preamplifier, ABM APM 1000 EVO II Power Amp x 2, ABM 900 EVO II Head, ABM 810 Cabinet, ABM BP1510TX Cabinet, ABM C410T-500 EVO II Combo.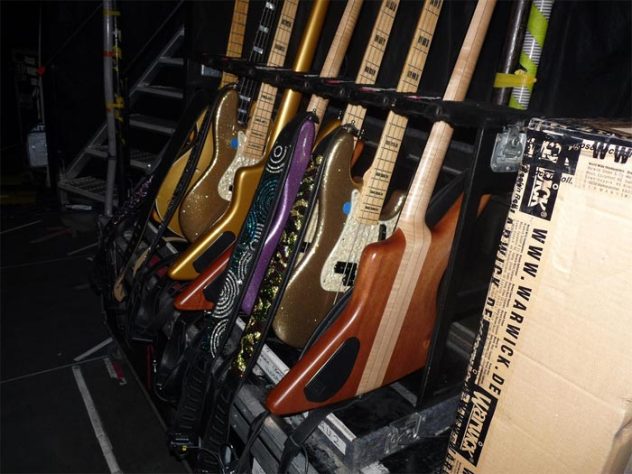 Esta es una lista de la mayoría de los bajos que ha utilizado Adam Clayton a lo largo de su carrera:

Fender Precision Bass
Fender Jazz Bass
Fender – Jazz Deluxe Bass
Gibson – Firebird bass
Gibson – Les Paul Recording Bass
Gibson – RD bass
Ibanez – Musician bass
Ibanez – Roadstar bass
Lakland – Bob Glaub signature model
Lakland – Daryl Jones signature model
Lakland – Joe Osborne signature model
Rickenbacker – 4001 bass
Washburn – acoustic bass

Artículos sobre Adam Clayton y sus bajos:

U2′s Ground Control (2006)

Reluctant Rock Star: How U2′s Adam Clayton Learned to Play — and Conquer the World Onstage (2000)

BASSICS (1997)



---
LLARY MULLEN JR.:
---

El equipo de musica de Larry Mullen Jr. siempre ha estado compuesto por equipos de Yamaha, que han ido cambiando de color (y de configuraciones) a lo largo de las giras de U2.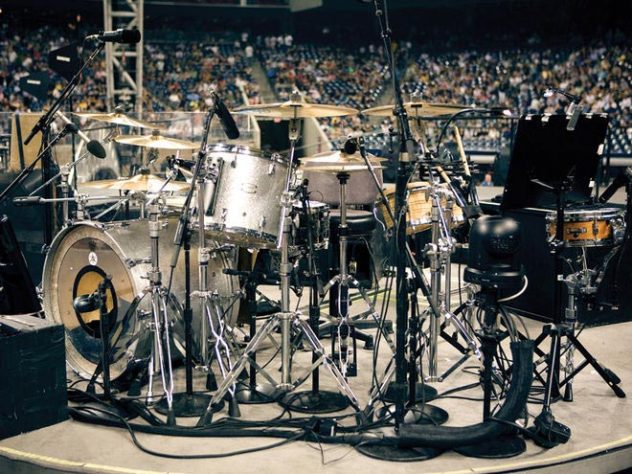 Por ejemplo, durante la gira U2 Vertigo Tour, Larry uso un equipo Yamaha Beech Custom en blanco con: 24″ bass drum, 14 rack tom, 16″ floor tom and another 16″ floor-mounted tom.

U2 360 Tour: Yamaha PHX Series drums
Vertigo Tour: Yamaha Absolute Beech Custom
Elevation Tour: Yamaha Beech Custom
Popmart: 30th Anniversary Maple Custom kit
ZOOTV: Maple Custom
Jochua Tree /Lovetown Tours: Turbo Tour Custom (mahogany/birch blend)
War / Unforgettable Fire Tours: Yamaha Recording Series (Birch)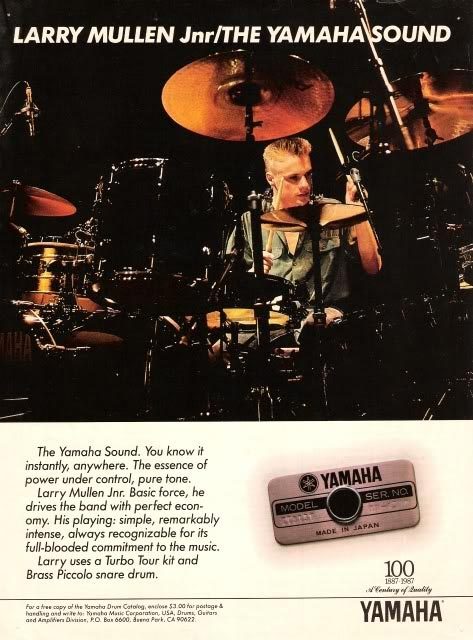 Larry Mullen Jr. usa platillos de la marca Paiste:

16″ power crash
17″ power crash
18″ power crash
18″ full crash
22″ power ride
14″ heavy hi-hat/sound-edge hi-hat.

Y de entre los diferentes kits de baterías de la marca Yamaha, que usa Larry Mullen, estas son las configuraciones más habituales:

14″ mounted tom
16″ floor toms x2
14″ snare drum
24″/22″ kick drum.
Pro-mark 5A Japanese oak drumsticks.



Via.- u2fanlife
Verdadero/Ultraviolet !!





Mensajes

: 5461


Fecha de inscripción

: 11/03/2010


Edad

: 49


Localización

: valencia




Temas similares
---
Permisos de este foro:
No puedes
responder a temas en este foro.